Best Sushi Around Kirkland, WA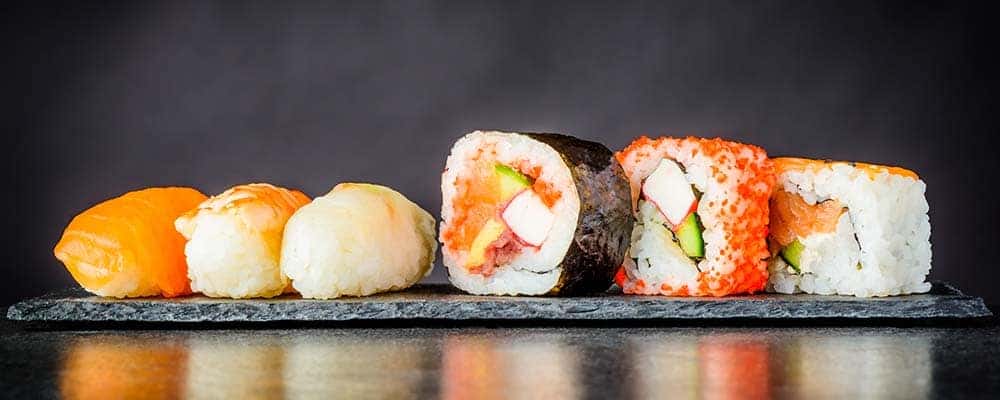 Looking for some delicious sashimi, nigiri, or maki in the Kirkland area? It's no surprise: The locals at Honda of Kirkland know what good fish – and good sushi – should taste like. Take a peek at some of our top spots in the Kirkland and Seattle areas, and grab a bite before you head out on a whale watching adventure!
Oto Sushi
Since 2011, Oto Sushi has been serving up some of the most delicious sushi in the area in the Juanita Village of Kirkland. Here, owner and head chef, Michael, remains dedicated to daily operations. This is also a great spot if you have small or large catering needs. If you're looking for a wide selection of nigiri, Oto Sushi is your place. Fortunately, for the Seattle sushi fanatics, Oto Sushi is open seven days a week.
Momoya Sushi & Sake House
This family-owned and operated sushi restaurant in Kirkland offers casual, laid-back dining and delicious sashimi and nigiri rolls, as well as a variety of other Japanese dishes. With vegetarian options on the lunch and dinner menu, Momoya Sushi & Sake has options for everybody. Open for dining Monday through Saturday.
Izumi
Izumi is one of the more popular sushi joints in town for good reason. In addition to delicious sushi and sashimi offerings, Redmond fans can find some of the better traditional teriyaki and tempura in the area. Open Tuesday through Sunday.
Sushi Joa – Kirkland
Sushi Joa's a family-owned sushi restaurant. With traditional Japanese cuisine, along with new sushi rolls, Sushi Joa in Kirkland is open late nights on weekends. Enjoy their weekend hours, where they're open until 11:30 p.m.
Enjoy More of the Best Restaurants in Kirkland!
There are plenty of good restaurants near Seattle, but Kirkland has some of the best in the areas – and the team at Honda of Kirkland is your guide to the great sushi and the best Indian restaurants in Redmond! We're also here to help you with tips, like where to go for a cup of joe, or how to drive in fog. If you have any questions for us, you can always reach us online.
Related News from Honda of Kirkland
When it comes to driving in Seattle, there's plenty of ways you can make your trip much more efficient, whether you're making your way through the city from Redmond or Woodinville. Drivers looking to know more about Seattle rush hour times, how to navigate to Seattle, or want to know the distance from Kirkland to…

Seattle driving is crazy. If you drive for Uber or Lyft, you already have experience with the congestion near Pike Place, the Seattle Center, or the library. So, which vehicles are best suited for Uber and Lyft driving? Plenty of vehicles fit the bill, but Honda vehicles are particularly well-positioned for city rideshare driving. Learn…

Driving to your next coffee roaster around Seattle, or headed to your favorite library branch? You'll probably have to parallel park. Learn parallel parking tips and parallel parking dimensions here at Honda of Kirkland. Cars for Uber and Lyft Drivers Contact Us How to Parallel Park Sure, you've taken driver's ed and you've passed your test at…