Financing At Honda of Kirkland

---
Welcome to Honda of Kirkland's Finance Center

---
If you have an immediate request, please email our Finance Center or call us at (425) 827-9300.
The Honda of Kirkland Finance Center is available for all your financing needs. Aside from choosing the right vehicle for you, financing is your second biggest decision. Now, you can be approved in just a few hours; in some instances, just a few minutes. Simply fill out our short application form, and we'll get right to work for you.
Mon - Sat

8:30 AM - 8:00 PM




Sun

10:00 AM - 7:00 PM



Vehicle Service Contract
Are You Covered?
Your vehicle has thousands of parts and components.
Today's vehicles are complex machines that rely heavily on technology to operate. Often times, parts cannot be repaired but must instead be replaced.
The average repair bill for a vehicle is over $900 and costs rise every year.
Because of the way most automobiles are built, replacing an entire component may occur more often than repairing a single part, which adds to the overall expense.
Less than half of Americans can handle a $1,000 emergency.* While some have money saved for unexpected bills, many would have to finance the amount with a credit card or borrow money from friends or family.
Guard against the expense of repairs with a vehicle service contract.
THE SMART CHOICE TO HELP REDUCE OUT-OF-POCKET EXPENSES
Our coverage can help protect your future finances from these potentially high and unexpected repairs.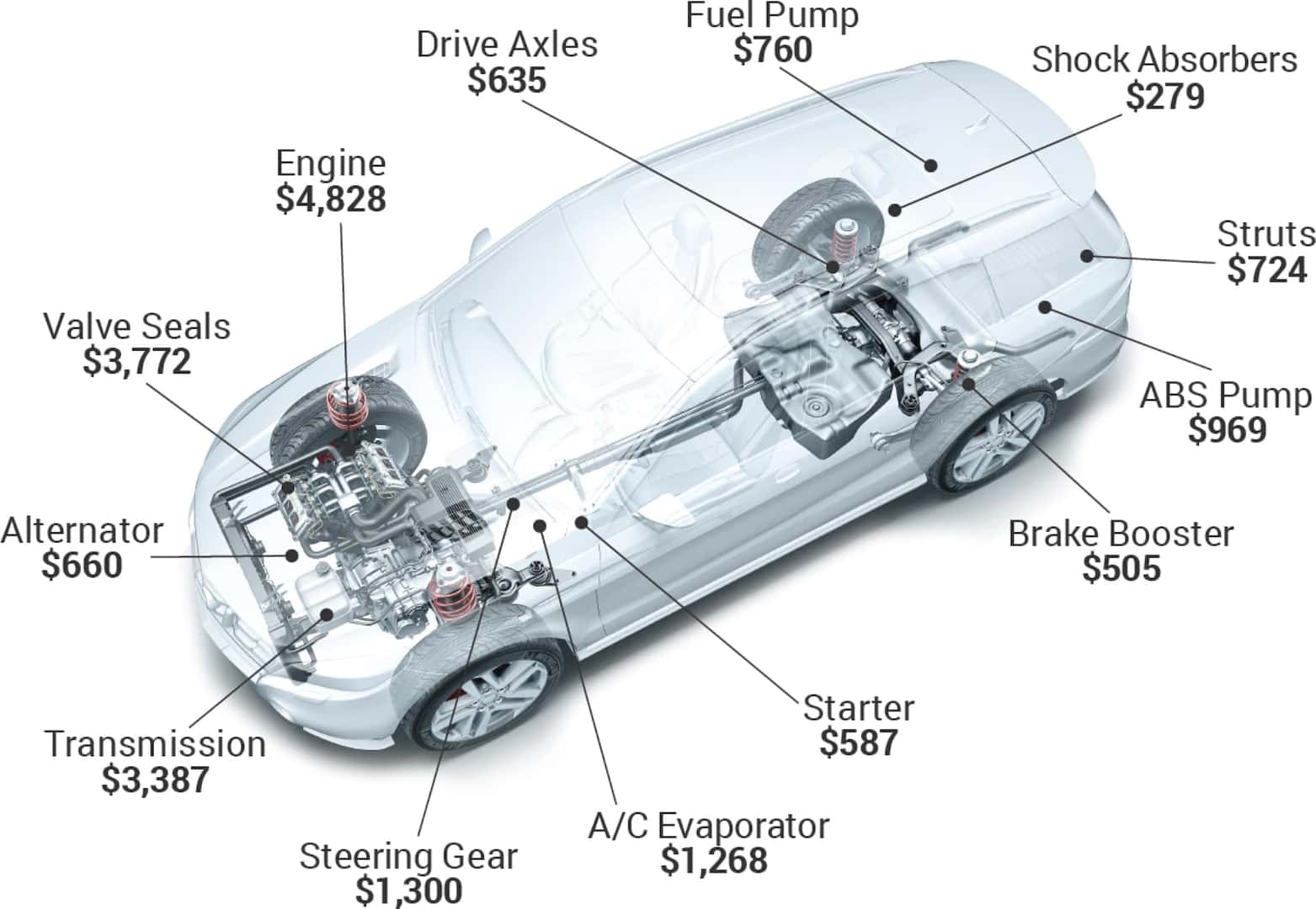 Repair costs based on nationwide averages for claims paid. Actual costs may vary. See contract for full list of covered parts and components; additional terms and conditions may apply.
BASIC
Powertrain Advantage Care+PlusSM
Engine
Tire Rotations
Transmission
Drivetrain Assembly
GOOD
Vehicle Value Care+PlusSM
Includes Basic Coverage Plus
Suspension
Front-Wheel Steering
Brakes
Electrical
Air Conditioning & Heating
Fuel System
Cooling System
BETTER
Mechanical Advantage Care+PlusSM
Includes Good Coverage Plus
Interior Electronics
Powertrain Electronics
ABS Brakes
Convenience Accessories
Vehicle Hardware
BEST
Automotive Preferred Care+PlusSM
TOP-OF-THE-LINE EXCLUSIONARY COVERAGE
Includes all parts covered by our basic, good and better plans and more. The coverage is so comprehensive, it's easier to tell you which components aren't covered. See contract for details.
VALUABLE FEATURES OF YOUR COVERAGE

Roadside assistance
Simply call our toll-free number 24 hours a day, seven days a week for our sign-and-drive service offering up to $50 per occurrence or up to $150 for towing. Or, you can call your own provider and we will reimburse you up to these dollar limits.

Rental car reimbursement
We will pay up to $50 per day with a maximum of $350 total for a rental vehicle when a covered breakdown occurs.

Travel and lodging reimbursement
We reimburse your meals and lodging up to $100 per day with a maximum of $300 per occurrence, if you are stranded more than 100 miles from home due to a covered breakdown.

Manufacturer's warranty deductible reimbursement
We reimburse up to $100 toward your deductible for repairs covered by your factory warranty.

Repair locations across the U.S. and Canada
Your dealership is generally your best option for repair service needs. However, you'll rest easy knowing that your coverage will be honored at thousands of locations throughout the United States and Canada.

Future contract guarantee
If you still own your vehicle before your coverage expires, you may be able to purchase a new contract, subject to eligibility.

Time tested, quality service you can count on Customer satisfaction is important to us. We strive to provide an easy customer experience by offering a simple, 3-step claims process.
STEP 1: FILE A CLAIM
File a claim at permaplate.com within 30 days of noticing damage.
STEP 2: CLAIM DETERMINATION
PermaPlate will review your claim. Approved claims will be assigned a technician to recondition or replace the damage.
STEP 3: SCHEDULE REPAIR
Schedule a repair at a time and location convenient to you and get back on the road in no time!
BONUS COVERAGE: RENTAL CAR
If any repairs require your vehicle to be out of commission, rental car allowance is provided.
Have questions? Ask your dealer for more information or contact PermaPlate directly at (800) 453-8470.
PAINTGUARD®
Paintguard® has been developed over three decades to provide maximum coverage for your vehicle's exterior treated surfaces. Without Paintguard®, a vehicle's painted finish can quickly lose that "new car" shine.
FIBERGUARD®
Fiberguard® is formulated to protect your vehicle's fabric upholstery and carpeting from spills, splatters and everyday mishaps before they become permanent stains on your vehicle's clean interior.
LEATHERGUARD®
Leatherguard® was created to protect your vehicle's leather and vinyl surfaces from sun, excessive dryness and temperature extremes.
PREVENTION
Appearance Protection provides maximum coverage for your vehicle's treated surfaces by utilizing the latest technology advancements in surface products.
REPAIR OR REPLACEMENT
Should covered exterior painted surfaces, interior fabric, leather or vinyl damage occur, we will repair or replace the damaged area with zero out-of-pocket expense to you. It's that simple. Repair or replacement of covered damage No per-occurrence limit Zero deductible, or out-of-pocket expense Hassle-free claims process Mobile technicians utilized, when available
LASTING VALUE
Common INTERIOR damages
Juice stain on carpet – replace floor mats $200
Fast-food spills – replace seat panel $550
Rip or tear in seat – repair hold $250
Common EXTERIOR damages
Hard water spots on trunk – reconditioning of trunk cover $250/li>
Insect damage on bumper – repaint front bumper $650/li>
Tree sap damage to hood – repaint hood $850
You pay: $0 With PermaPlate's Appearance Protection Program
GUARANTEED ASSET PROTECTION (GAP) WAIVER
A GAP waiver can help protect your finances from the costs associated with the unexpected loss of your vehicle.
Are you covered if your vehicle is declared a loss?
6 million traffic crashes happen every year in the U.S. on average*
700,000 motor vehicles are stolen every year in the U.S. on average*
Help close the "gap" on your vehicle loan
When a vehicle is declared a total loss due to theft or accident, the primary auto insurance will typically cover the actual cash value of the vehicle at the time of loss. This amount can be less than the outstanding balance on the loan.
The difference between the amount covered by the insurer and the remaining balance on the loan is often referred to as the "gap." You would be responsible for paying this amount to the lender.
A GAP waiver can help limit this financial obligation by waiving some or all of what is owed, excluding certain items such as unpaid past-due payments and late fees. It can even waive your insurance deductible up to $1,000.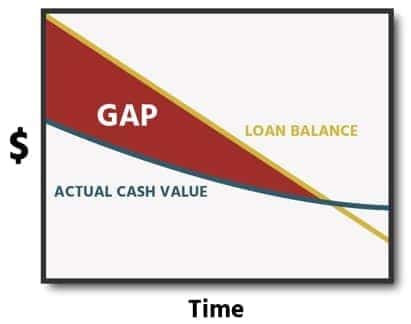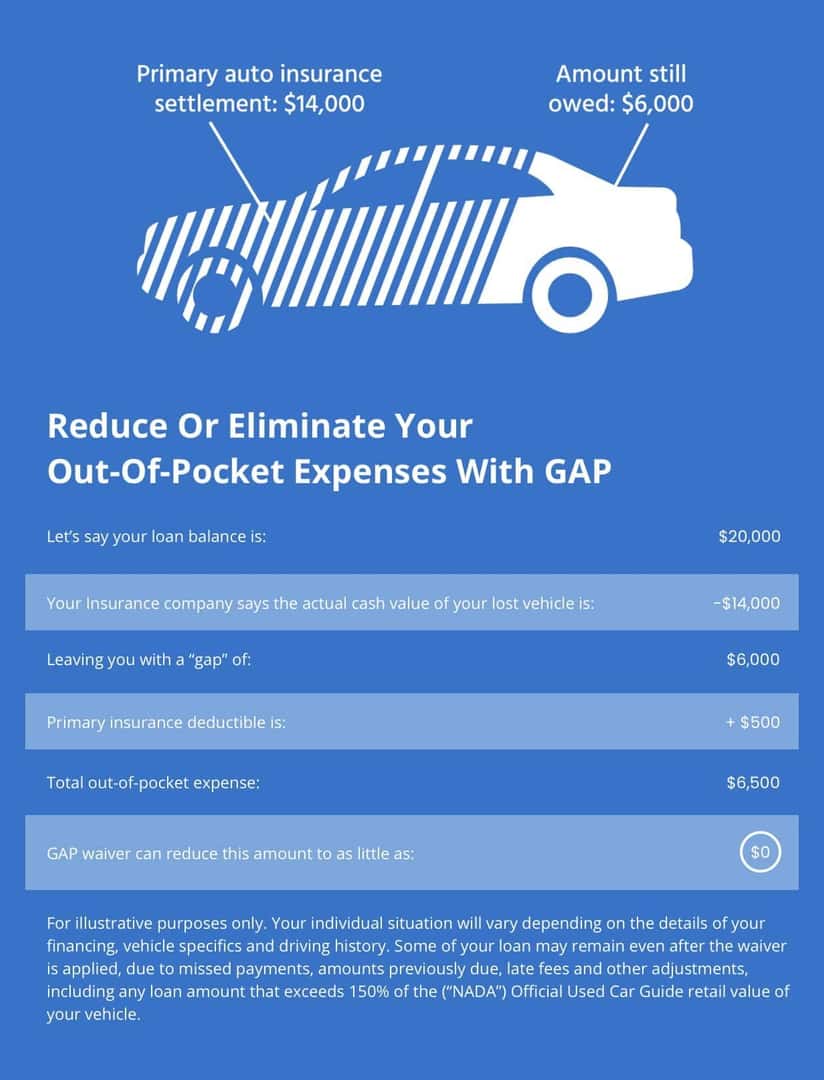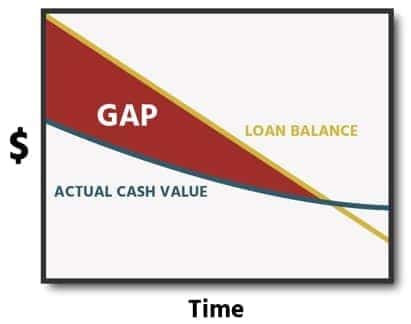 TIRE AND WHEEL COVERAGE
Repair or replace tires and wheels when damaged by a road hazard.
NEED COVERAGE?
Seven tire punctures occur every second in the U.S. – that's 220 million flat tires annually
The average driver will experience up to five flat tires in their lifetime
27% of all roadside emergencies are tire related*
GUARD AGAINST THE UNEXPECTED WITH TIRE-AND-WHEEL COVERAGE.
You may not be able to avoid every bump in the road, but you can reduce the possible expense of fixing tire-and-wheel damage caused by a road hazard Our tire-and-wheel protection will cover the costs associated with repairs or replacements of tires and wheels damaged by things such as potholes nails, tree limbs and other debris you may encounter while driving.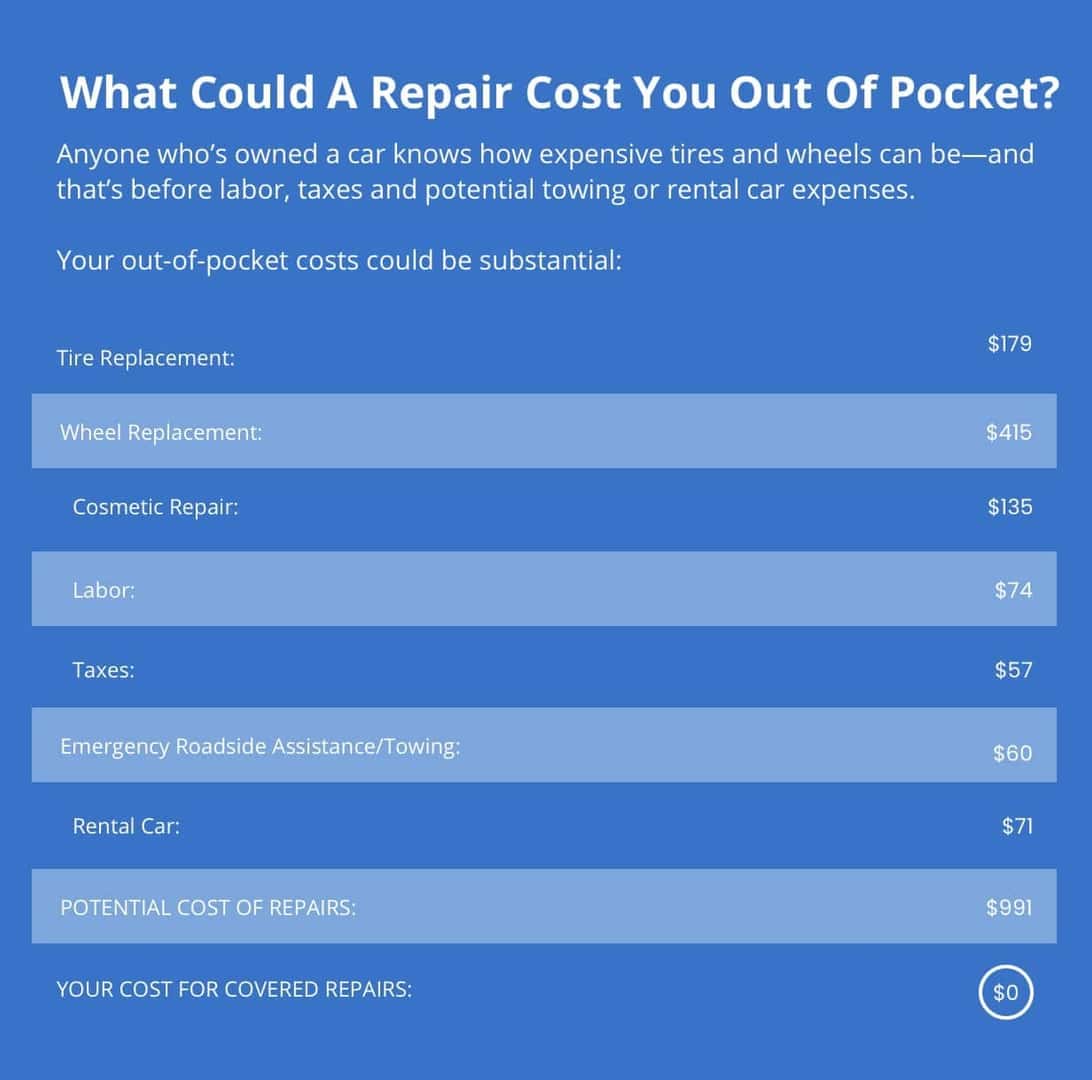 COME VISIT US AT 12420 NE 85TH ST, KIRKLAND, WA 98033
Get Directions
We are located at: 12420 NE 85th St Kirkland, WA 98033