What is Honda's Econ Button?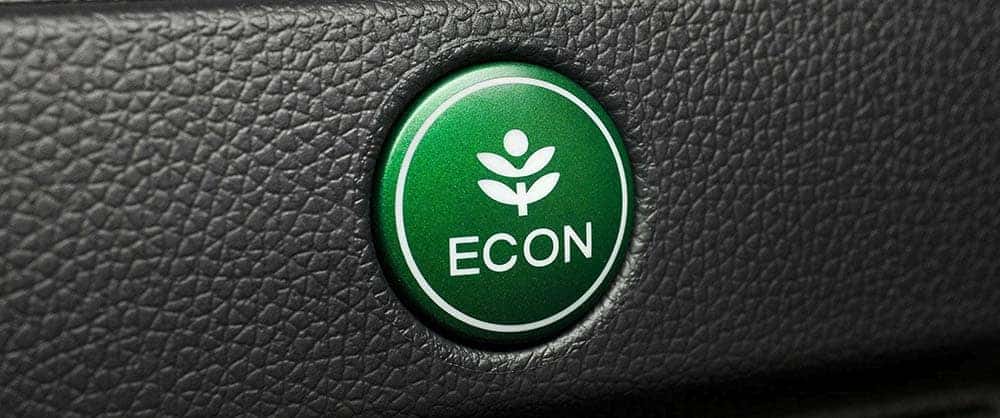 Available on a wide range of new Honda models, the Honda Econ button is designed to help you save money on gas by calibrating vehicle systems to maximize fuel efficiency. Learn what the Econ button is here, and check out when to use it here at Honda of Kirkland.
How Honda's Econ Button Works
The Honda Econ button saves you money on gas when engaged by changing the settings on a variety of different systems, including:
Throttle – Throttle response is changed at highway speeds to help reduce acceleration. If you're a race-minded driver around Seattle, you'll likely leave the Econ button disengaged.
Transmission – The gear shifts in the transmission are recalibrated to save money at the pump by shifting at lower RPMs.
Cruise Control – When cruise control is engaged, the vehicle will be less likely to downshift in order to maintain its speed. This could lead to slight speed variation on hills, but it will save money on gas.
Air Conditioning – It may take a bit more time to cool off the car, but it's unlikely you'll encounter a sweltering summer in Seattle. With the Econ button engaged, the air conditioner compressor will turn on and off more often, noticeably improving fuel economy.
When Should I Not Use Honda's Econ Button?
You shouldn't use Honda's Econ button if you're merging onto a highway, since you'll need to accelerate quite rapidly. If you're driving down precarious roads, you should also keep your Honda's Econ button disengaged, since both throttle response and transmission change with the Econ button on.
When to Use Econ Button
If you are wondering when to use the Econ button, the answer is most daily driving is fine. As long you aren't going to need to accelerate quickly or on challenging roadways, the Honda Econ button can be safely engaged and provide some fuel-saving results.
Become a More Fuel-Efficient Driver with a New Honda Vehicle
Check out the most fuel-efficient new Hondas for sale at Honda of Kirkland. Follow us to find fun stuff to do around the area, too, including the best sushi around Kirkland. And if you have any questions for us, from finding local activities to when to use the Econ button, don't hesitate to contact us!
Related Posts from Honda of Kirkland
The service experts at Honda of Kirkland get plenty of questions about Honda warning lights, such as what the Honda Accord warning lights mean or what the Honda CR-V warning lights mean. Fortunately, for Woodinville drivers, Honda warning lights are generally the same between models. We're happy to help you understand what the Honda dashboard…

A sleek and reliable sedan can make all the difference to your Redmond and Woodinville commute, but it should also fit your driving needs. Whether you're looking for a sedan that offers plenty of the latest technology, provides the most dependable safety features, or anything else in between, you'll find what you're looking for with…

When it comes to driving in Seattle, there's plenty of ways you can make your trip much more efficient, whether you're making your way through the city from Redmond or Woodinville. Drivers looking to know more about Seattle rush hour times, how to navigate to Seattle, or want to know the distance from Kirkland to…