What is Honda's Econ Button?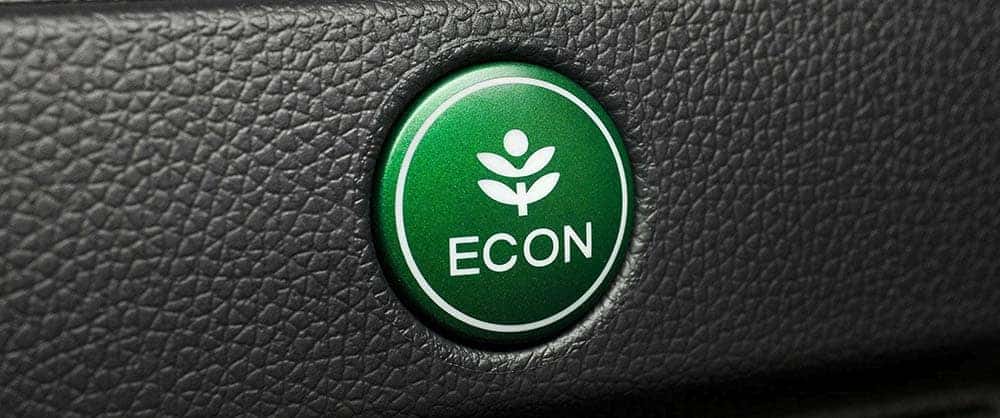 Available on a wide range of new Honda models, the Honda Econ button is designed to help you save money on gas by calibrating vehicle systems to maximize fuel efficiency. So, what is the ECON meaning? Does the ECON button save gas? Learn what the Econ button is here, and check out when to use it here at Honda of Kirkland.
How Honda's ECON Button Works
If you've never used the Honda ECON mode, you may be wondering: "What does the ECON button do?" The Honda Econ button saves you money on gas when engaged by changing the settings on a variety of different systems, including:
Throttle – Throttle response is changed at highway speeds to help reduce acceleration. If you're a race-minded driver around Seattle, you'll likely leave the Econ button disengaged.
Transmission – The gear shifts in the transmission are recalibrated to save money at the pump by shifting at lower RPMs.
Cruise Control – When cruise control is engaged, the vehicle will be less likely to downshift in order to maintain its speed. This could lead to slight speed variation on hills, but it will save money on gas.
Air Conditioning – It may take a bit more time to cool off the car, but it's unlikely you'll encounter a sweltering summer in Seattle. With the Econ button engaged, the air conditioner compressor will turn on and off more often, noticeably improving fuel economy.
Does Honda's ECON Button Save Gas?
So, does the ECON button gas on your commute? One of the main reasons you're saving gas is through pedal power reduction. This enables your car to adjust to power when in ECON mode so the vehicle's transmission can move accordingly. With less power running through your vehicle, you'll undoubtedly save more fuel. The ECON button model also provides a smoother and more gentle ride and easier acceleration when you press on the pedal.
When Should I Not Use Honda's ECON Button?
On very hot days.
When merging on and off the highway
Overtaking other vehicles on the road.
Towing large amounts.
On dangerous roads steep hills.
You shouldn't use Honda's Econ button if you're merging onto a highway, since you'll need to accelerate quite rapidly. If you're driving down precarious roads, you should also keep your Honda's ECON mode button disengaged, since both throttle response and transmission change with the Econ button on.
When to Use Honda ECON Mode Button
Cruising at a steady pace on the highway
Normal city driving conditions
Areas where the terrain remains relatively flat
You aren't towing anything
On days that aren't unbearably hot and you won't need to use max A/C for long
If you are wondering when to use the Econ button, the answer is most daily driving is fine. As long as you aren't going to need to accelerate quickly or on challenging roadways, the Honda Econ mode button can be safely engaged and provide some fuel-saving results.
Become a More Fuel-Efficient Driver With a New Honda Vehicle
Check out the ECON button on Honda Accord and other new Honda vehicles for sale at Honda of Kirkland. And if you have any questions for us, from finding local activities to when to use the ECON mode button, don't hesitate to contact us!
More From Honda of Kirkland
If you appreciate the seamless ride and features that come along with Honda's signature sedan like the Honda Civic, then you can elevate to a sportier option with the new upcoming 2023 Honda Civic Type R. While a 2023 Civic Type R release date has yet to be announced, there are a few exciting tidbits…

Many drivers have opted to upgrade to a more fuel-efficient ride for their Redmond commute, and there's sure to be a new contender at the top of your list with the release of the anticipated new 2024 Honda Prologue EV. This all-electric Honda SUV provides the enhanced fuel savings you're looking for in a sportier…

The Honda CR-V has had stellar consumer popularity over the years. This is due in part to its practical interior, but also the amazing amenities. We'll let you guess which category the new 2022 Honda CR-V falls into, at least for all of us here at Honda of Kirkland. When you are looking to determine whether the…